The Newb Swarm: A Guild For Newbs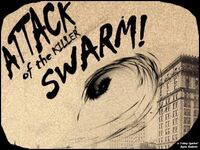 NEWS:

Our HQ has moved. We are now based out of (6,16) Ball Hall. If you have a Recall point set at the old HQ, go ahead and move it.
We are actively recruiting again. Anyone level 10 or below who is not a known Alt may join. Use our Talk Page, or ask Claytonius3.
Allies are hereby advised that it may be prudent to prevent us from entering their barriers.

---

MISSION:
MEMBERSHIP:
To increase the new member retention rate of Scroll Wars through outreach, assistance, and generosity.


---

 It is our intention to aid new players in finding their way through the beginning stages of the game. We hope to accomplish this by supplying beginners with basic items, and providing assistance and advice as needed.

To that end, each member will be given a Battle Axe, a Chestplate, and a shield. Bandages will be supplied as well.

Our Headquarters is at (6,16) Ball Hall in Bissom Town. Members and Allies can log out within our barrier assured that they will not be attacked while they sleep. The Barrier of Trust keeps out all non-allied players.

The HQ site was chosen for its proximity to resources such as a Bank, Vault, Monument, and Clinic. We are also adjacent to one of the Catacombs entrances.

For the Guild F.A.Q., click here.

Most players level 10 or below are welcome to join. Referrals are welcome.



---

For the safety of our low-leveled members, known PKers will not be invited.

Just ask any one of our members to relay an invitation request, or leave a comment on Claytonius3's Talk Page or the Guild Talk Page.

Currently my brother is serving as Assistant Nerf Herder, as the membership increases more Assistants will be needed.

Click

Here

to maintain the List.
Allies and Enemies
Allied Guilds
Enemy Guilds
Allied Players
Enemy Players
Community content is available under
CC-BY-SA
unless otherwise noted.