Karmais a sum of all good or bad things that an individual has done, is currently doing and will do.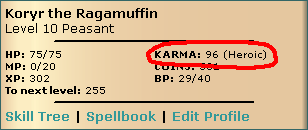 Karma in DragonSpires
Edit
Karma in DragonSpires is a measure of the deeds that the player has done. Karma can often be used to see what "side" the player is on, Positive, Neutral or Negative. Since all of the current deities often follow one of these sides, Karma is also a factor in deciding which deity the player follows. Guilds also play a role in Karma. Guilds can decide to choose a Positive, Neutral or Negative path.
Karma Change in DragonSpires
Edit
Positively
Edit
If you wish to change your Karma to be Positive, you must do Positive things such as:
Killing another player with a Negative Karma
Healing another player
Killing certain non-human NPCs (Forest Monsters, Undead, etc.)
Negatively
Edit
If you wish to change your Karma to be Negative, you must do Negative things such as:
Killing another player with a Neutral or Positive Karma
Pickpocketing
Looting a corpse
Zombifying another player
Killing a human NPC