Magic Points (often referred to as simply MP) are the currency of magic in Scroll Wars, or the capacity a player has for casting spells. Every spell has an MP cost.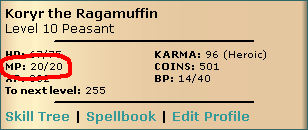 Regeneration and Maximum MP
Edit
A player's maximum Magic Points varies, depending on how s/he chooses to grow as a player. With every level gained, a player has the choice to add either 5 Magic Points or 5 Health Points to the maximum capacity. Magic Points regenerate at a rate of 5% of the player's maximum MP every refresh rounded down, however the minimum amount regained is always 5 MP each refresh. When Meditating, the player regenerates an additional five Magic Points per refresh.
List of MP per action
Edit
Healing Touch
Health Transfer
Barrier of Light
Barrier of Darkness
Monster Ward
Community content is available under
CC-BY-SA
unless otherwise noted.